الاصدار الحالي
Healthcare Guide 2018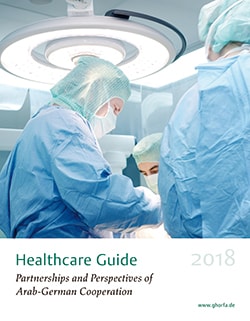 The highly innovative health industry in Germany is well known as a major hub for medical technology, medical treatment, and pharmaceuticals. Due to the unparalleled level of collaboration between science, research, industry, and medicine, Germany is also becoming a prime location for medical tourism. The country's healthcare spending amounted to almost EUR 350 billion in 2016, around 12 percent of its GDP.
Many Arab countries have announced ambitious plans to build new hospitals and medical centers, as well as to expand their existing facilities. This creates enormous opportunities for cooperation between Arab and German companies and institutions. 
Content
To promote a sustainable Arab-German partnership in the healthcare sector, the Ghorfa Arab-German Chamber of Commerce and Industry publishes the Healthcare Guide right on time for  the 11th Arab-German Health Forum (April 16th – 17th, 2018). The editorial articles inform about Arab-German cooperation projects that are planned or are already successfully accomplished. With its excellent reputation, state-of-the-art technology and as a top destination for medical tourism, Germany offers many investment opportunities and is a reliable partner for healthcare projects in the Arab world.
Details
Title: Healthcare Guide – Partnerships and Perspectives of Arab-German Cooperation 2018
Publisher: Ghorfa Arab-German Chamber of Industry and Commerce
Date of publication: April 2018
Extent: 68 pages
Order
You can order the publication free of charge (+ delivery cost) by sending an e-mail to ghorfa(at)ghorfa.de.
Contact
Tatjana Arnold
Business Officer Marketing / Business Development

Tel.: +49-30-27 89 07-11
Fax: +49-30-27 89 07-49
Email: arnold(at)ghorfa.de